Tiger Drop TDH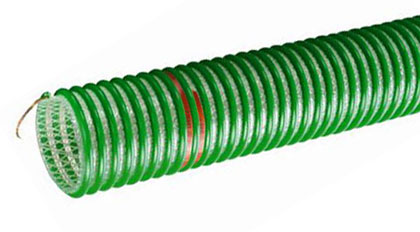 Tigerdrop™ Clear Tank Truck gravity drop fuel transfer hose by Tigerflex®, is made with a revolutionary polyurethane compound! Specifically dedsigned to handle gasoline, ethanol**, diesel and biodiesel**.
Superior flexibility especially at -40° F/C, Light Weight, yet extremely durable construction with an easy slide helix and embedded multi-strand copper wire, makes the Tigerdrop™ the perfect hose for gravity drop fuel applications!
** Meeting ASTM D5798, D4806 or D6751 criteria.
Click here for more information.
Kuri Tec PVC Hose & Tubing
Tigerflex™ Thermoplastic Industrial Hoses BACK TO TOP
Kuriyama Metal Hose Products BACK TO TOP